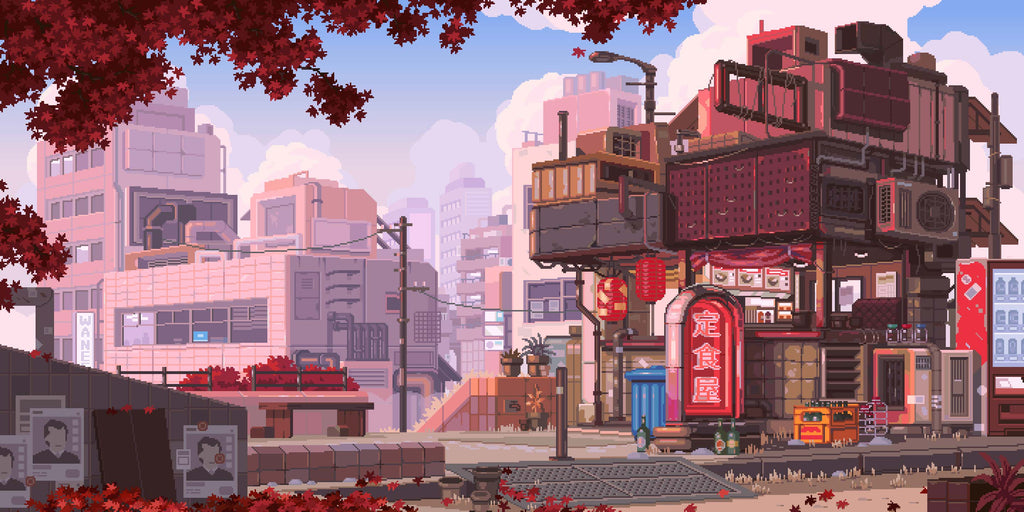 Waneella and Liam Wong on the Artistic Allure of Japan
Liam Wong is a Scottish photographer and videogame designer whose career includes six years working for Ubisoft Montreal on the Far Cry game series. Valeriya Sanchilo, better known to her global fans as Waneella, is a Russian-born digital artist whose low-res style and vibrant colours riff off the 16-bit point-and-click adventure games that were crazy popular back in the 1990s.  
While neither hail from Japan, both are undeniably linked to it through their work, which share an obvious love of modern urban landscapes, artificial lighting and empty midnight streets. Liam's 2019 book, TO:KY:OO – funded here on Volume – showcased his photographs of the city, while Waneella's images, with their striking palettes and subtle, blink-and-you-miss-them animations, are reminiscent of both videogame and anime backgrounds.
Which makes the first question to both Valeriya and Liam an obvious one – why Japan?
Waneella (Valeriya Sanchilo): By the time I started drawing pixel art, I had watched enough anime to be very inspired by Japanese cities. When I was a teenager, I accidentally saw Wong Kar-wai films and even though they were shot in Hong Kong (as far as I remember), the magnificent views of Asian cities in the 1980s and 90s stuck in my mind. I can't tell why exactly I eventually chose Japan from among other Asian countries, but I don't regret this choice!
Liam Wong: I didn't really grow up on Japanese culture much, outside of a couple of videogames, and only first visited the country in 2014. At the time, I was working in videogames and arrived in Tokyo as part of a press tour for the game Far Cry, which I was demoing on-stage at an event in the Akihabara neighbourhood of Tokyo. It was an experience that stayed with me and sparked my interest in Japan – so much so that I went on to save all of my vacation days for an annual trip from Montréal to Tokyo.
Liam, you now live in Japan but what about you, Valeriya? Do you visit often?
VS: I've only been to Japan twice and I'm really sad that I haven't been able to get there since 2019. Yet both times I was there, I had an incredible feeling of something very familiar, very nostalgic. Small cozy streets, big bright avenues, old but tidy trains, personal possessions casually placed outside of people's houses because no one will ever take them. I think all these small things make Japan so special. Not to mention that Japanese visual culture and traditions are very good-looking and stylish and even old designs look very modern and relevant. So it's just a great aesthetic pleasure to look at anything there.

LW: It's surreal that I now live in Japan permanently as a result of buying a camera all those years ago. Tokyo made me a photographer and I'll never tire of the beauty Japan has to offer. Every day I go out with my camera, I find new ways to capture things. These days, I'm drawn more towards the older parts of Japan, in search of that nostalgic feeling. As a result of the pandemic, some of my favourite places no longer exist. I'm motivated more than ever to capture the mundane things around me because in a metropolis like Tokyo that's always advancing, many areas quickly become faded memories.
Tokyo made me a photographer and I'll never tire of the beauty Japan has to offer.
Liam Wong
Both of your works has often been called 'cyberpunk', but do you think that's an accurate description? 
VS: I think that cyberpunk is when it's about a future where there's been a catastrophe but people still managed to live through it. A very tired, futuristic world – just like in Blade Runner. But when I look at my own artwork, I see some futuristic cityscapes but I can't describe all of them as cyberpunk. Currently I'm working on a tiny animation sketch that has a strong cyberpunk feeling to it, although I had no real goal to make it so. I think it's much more interesting to do something that fits in between genres, and while I'm not sure if I'm succeeding in this, it seems much more interesting than following a well-known path. When I speak about my art to someone who doesn't know what I do, I usually say I'm drawing pixel-art cityscapes. No genres attached.
LW: To the majority, any photograph taken on a rainy night in an Asian city with neon signs is 'cyberpunk'. The genre is a lot more complex than that, with a complexity far beyond what a photograph could ever capture. Having said that, I have gained an audience of sci-fi fans over the years due to the similarities between my photography and their favourite IPs. I spent a lot of time studying Syd Mead's work and the cinematography of Blade Runner (among other movies) to be able to channel it through my work when considering the colour, composition and content of my photographs. But when it comes to my photography, I don't refer to it as cyberpunk. Instead, I prefer to describe my work as "through the lens of a game artist".
Both times I was [in Japan], I had an incredible feeling of something very familiar, very nostalgic.
Waneella (Valeriya Sanchilo)
Time to let your fandom shine. What do you like about each other's work?
VS: I think Liam is a superstar of modern street photography and each time I see his photos, I wonder how it's possible to make so many outstanding photos with magnificent composition, beautiful colours and such wonderful objects and places in them. I especially liked when Liam posted wide-format videos in Instagram stories and I needed to turn my smartphone sideways to see what this beautiful, cinematic footage was about. Sometime years ago, I was so impressed by Liam's photography that I thought that I also wanted to be a photographer! But I ended up buying myself a small Lumix camera and only used that when I was in Japan… Guess I'm more of a pixel artist after all!

LW: Thank you! While I'm working on large game or film projects these days, my photography is my little place to escape to. One of my favourite cinematographers is Sir Roger Deakins, who said in a podcast that what you leave outside the frame is also important. When you're working on a movie, you have full control of set design, lighting, costume and composition. I feel the same goes for illustration, and it's something I notice in Valeriya's work. While there's a community of pixel artists, I can recognise her artwork anywhere and it makes me happy to see her work in the wild, like on Steam when I'm spending my coins on games. I always find myself zooming into the details and watching the animation loop and always being amazed every time. I particularly like works which feature typography and the way she balances this within the scene with her colours creates a depth that other pixel artists can't quite achieve. Another thing I love about Valeriya's work is the variety on show in terms of location, mood and colour palette. Each new piece from her feels different, especially so in an age where we feed the algorithm with what we think it wants, rather than just making what we want to make. I'd definitely recommend her having another go at photography. It will change her perspective even more, especially with the right lens. I, on the other hand, will leave pixel art to Waneella!