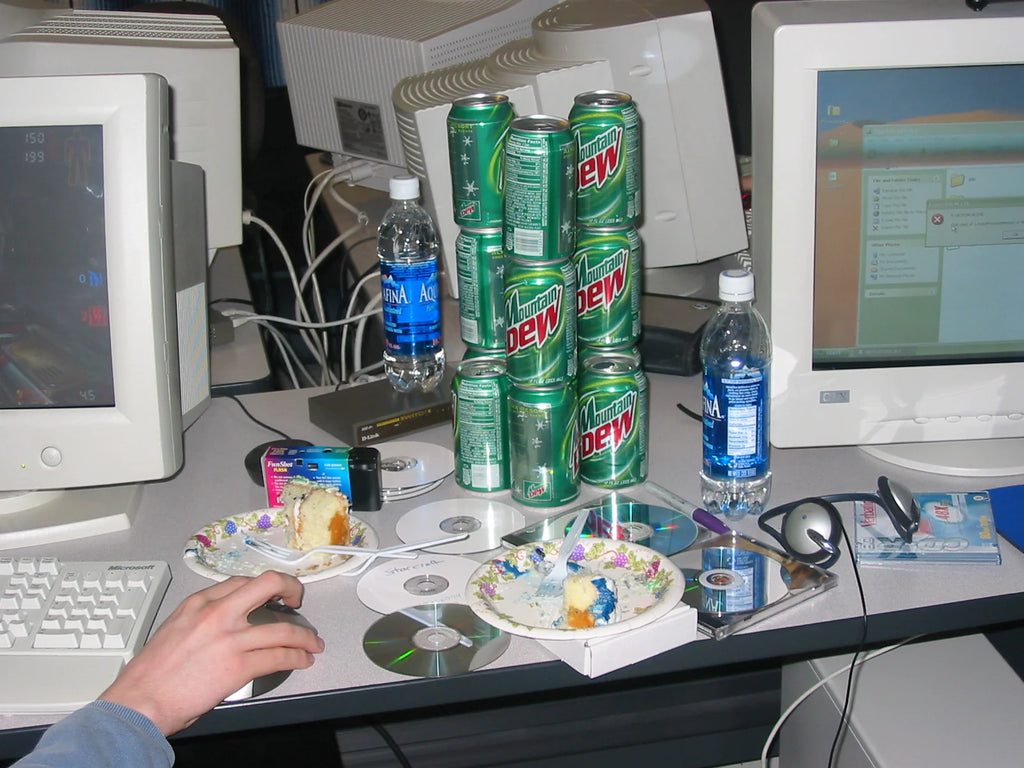 Long Live the LAN Party
LAN Party, successfully funded on Volume in 2022, is a photographic celebration of the multiplayer gaming phenomenon and its nocturnal participants. We asked author merritt k to select and commentate on some of her favourite images from the book. So, grab a corn-based snack and pull up a gaming chair as you embark on a trip down random-access memory lane.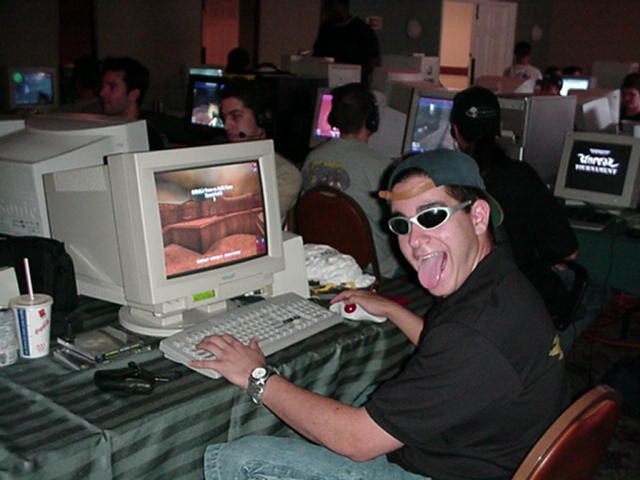 This is the coolest guy in the world. He exists in a world before "soyfacing" was a thing. He is genuinely enjoying rocking out on the computer with his trackball mouse at this LAN party. Remember, this is before smartphones or even the mass uptake of consumer digital cameras, so having your photo taken at an event like this was still kind of a novelty, and the expressions and poses people strike in them speak to a time before we all learned how to be the constant subjects of photography.
Enormous CRT monitors? Check. The Amish pressback chairs every family I knew owned in the 90s? Check. Something Awful t-shirt? Triple check. Like this Mona Lisa, this photo invites us to imagine what the subjects are gazing at. An early shock site? A brutal frag? We may never know.
You're piling all of your computers into your parents' minivan (note the cases — this is before custom builds were the norm) and getting ready for your LAN party. You know you've gotta strike a pose with the whole gang, including the one guy who inexplicably has a machete. There was absolutely always one guy who owned a sword or other bladed weapon. You used to be able to buy swords at the mall. Never forget what they took from you.
This was taken at the Canberra Deep Space Communication Complex. Imagine the vibes of playing Halo on the monitors at a space research facility during the night shift. Unreal.
LANs aren't dead! Believe it or not, this photo was taken in 2020. You've got to admire the dedication here — they even rounded up some of the original "Duke" Xbox controllers that were famously gigantic and unwieldy.
LAN parties were especially popular in the US and Europe, but took place in a wide variety of countries, like Ghana. And hey, if your parents are yelling at you to get outside for once, who says you can't just set up the LAN party in a tent?
Gaming laptops opened a whole new terrain for in-person gaming. IHOP probably wouldn't let you set up your towers and monitors, but laptops were fair game.
Gaming is, as they used to say, srs business. Note the omnipresent Bawls bottles and the spindle of CD-Rs.
There's a fun mix of technologies in this photo – the huge LG CRT monitor seemingly with the retail display sticker still on it, alongside an odd, flat keyboard that represents a move away from the previously dominant beige design. But the real star here is guys being dudes. What's better than this?